How to: Cooking for a lady. The easy way!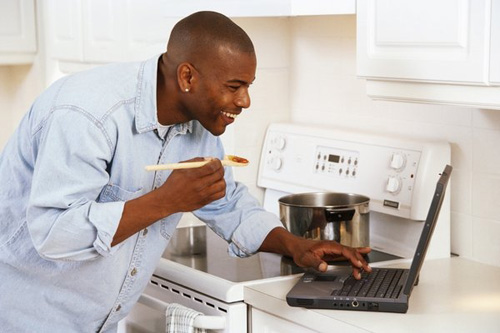 Congratulations! You have found a girl you really like, you went out on a few dates and now she is willing to come over at your place and enjoy the dinner you will cook for her. It really sounds promising! But now the stress has kicked in and you just remembered you don't even know how to cook. Put that delivery catalog down and keep reading. If you want to date white women and impress them, you can't rely on the Sushi restaurant for ever! And unless you are a chef, they will probably figure out you didn't roll that seaweed yourself.
Pasta a la crème with mushrooms
Very very easy dish and one that will turn out good, no matter how clumsy you are. First, you need to cook the pasta of your choice. Follow the instructions on the package, strain them and put them back in the pot with the lid on. Now, all you need to do is chop the mushrooms, toss them around in butter in a pan for 5-7' and add the cooking cream in the pan. Lower the heat to the minimum, add salt and pepper and cook until the cream thickens. Depending on your stove, it should take anywhere between 4 and 10 minutes. Keep stirring while you cook. You can add in chives, parsley or dill as well, for a bit of color. Serve with a glass (or two) of white wine and a nice green salad.
Guacamole and tacos
White girls looking for black men are usually adventurous and they love experiments in the kitchen as well as in their life. So why not surprise her with something spicy but easy to make? All you will need for the tacos is a package of taco shells, a package of pre-cut salad, a jar of salsa, a can of beans, a can of corn and a can of mushrooms. All you need to do is cut the tomatoes in small cubes and fill the tacos with all the ingredients. Make them right before your date arrives, otherwise the taco shells will get soggy from the salsa. As for the guacamole, put in a food processor two avocados, the juice of one lime, two cloves of garlic, one chilli pepper, salt and pepper. You are done! Serve with nachos and drink tequila shots and beer.
Tapas night
The simplest of all things. It requires more shopping but it is a breeze to prepare. First of all, get a good quality Sangria wine. It is not a tapas night without Sangria. Some flamenco music or a Spanish guitar CD would be a nice touch as well. Now gather as many little bowls and plates you can find and fill them with: marinated olives, sun-dried tomatoes in olive oil, roasted peppers, artichoke hearts, prosciutto slices, garlic bread, meatballs, shelled shrimps cooked in salsa, little mozzarella balls. You can also make some simple finger food. You can use different spreads like smoked aubergine or humus on white and whole wheat bread and top with slices of cucumbers and tomatoes. As you can see, most of the bowls only require you to open a can or jar to fill them. Of course, if you make your own humus, it will be a bonus. All you need to do is put in the processor a can of chickpeas, the juice of one lemon, one or two cloves of garlic, a bit of salt and pepper. Done!
Pesto pasta
First of all "pesto pasta" sounds cool. Of course, it is very easy to make, otherwise it wouldn't be on this list. And white women dating black men are not exactly used to them making their own pesto, so you are sure to impress. First, go get the biggest pot of fresh basil that you can find. You will also need about half a cup of pine nuts and half a cup of olive oil. Salt and pepper are always useful. Getting a good quality olive oil is crucial, for this recipe to reach its full potential. Now, cut the basil, wash it thoroughly and put it in a food processor along with the pine nuts and ¼ cup olive oil. Keep adding olive oil until you make a cream-like paste. All you need to do next is cook the pasta following the package instructions and top it with the pesto.
Of course you can find many more easy recipes online. And trust us when we say that any girl will appreciate much more a simple dinner cooked by you than an impressive three-course meal ordered from a restaurant. And if you are worried about desserts, a huge bowl of fruit and some ice cream will do just fine!